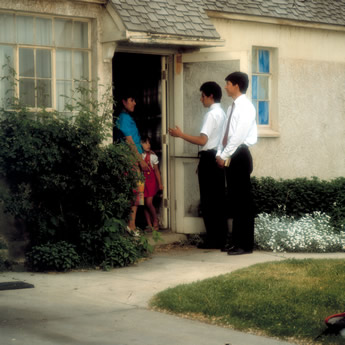 Retired Pastor and Former Insight Magazine Editor Mike Jones (mjones@paclink.com) had some Mormon missionaries stop by his house a couple months ago. Having some free time and wanting to demonstrate the love of Jesus he invited them in. A friendship developed as Mike showed he was a good listener and kept looking for common ground. After several visits Mike shared this Bible study with the (surprised) young men. The rest of the story has yet to be written.
The Bible & Book of Mormon On Commandment Keeping
(Including the seventh-day Sabbath)
1. How are God's last-day people identified in the Bible? See Revelation 14:12
2. In terms of commandment keeping, what did Jesus say about any changes to His commandments? Matthew 5:17, 18.
3. And what does the Book of Mormon say about keeping God's commandments? Mosiah 12:33; 2:22.
"But now Abinadi said unto them: I know If ye keep the commandments of God ye shall be saved; yea, if ye
keep the commandments which the Lord delivered unto Moses in the mount of Sinai.."
"And behold, all that he requires of you is to keep his commandments; and he has promised you that if ye
would keep his commandments ye should prosper in the land; and he never doth vary from that which
he hath said." Verse 22
4. What did Jesus say about those who teach disobedience to His commandments? Matthew 5:19.
5. If we're saved by faith in Jesus, do we need the old law anymore? Romans 3:28, 31. (The Bible cites two laws, the Ten Commandments written in stone and placed within the ark of the covenant itself and the Law of Moses which was placed in the side of the ark. See Deut. 10:5; I Kings 8:9; and Deut. 31:26. The Law of Moses pointed toward Jesus' sacrifice and was no longer needed after the cross.)
6. What does the Bible say about a person who says he's a Christian, but doesn't obey God's commandments? I John 2:1-4.
7. What does Jesus say about the importance of keeping His commandments? John 14:15
8. And what does the Book of Mormon state about the Fourth Commandment? Mosiah 13:16-19.
"Remember the Sabbath day to keep it holy. Six days shalt thou labor and do all thy work. But the seventh day is the Sabbath of the Lord thy God, thou shalt not do any work, thou, nor thy son nor thy daughter, thy man- servant, nor thy maid-servant, nor thy cattle, nor thy stranger that is within thy gates.
For in six days the Lord made heaven and earth and the sea and all that in them is; wherefore the Lord
blessed the Sabbath day and hallowed it."
9. What is the terrible fate of the person who is convicted about a Bible truth & does not act on it? 2 Thessalonians 2:10-11.
10. What are God's final instructions to His people who find themselves in Babylon? Revelation 18:4-5; 22:18-19.
Related Resources–
Los Mormones Spanish booklet
Evangelist Lyle Albrecht has a Mormon background
Here's an additional study that Mike shared with us:
The Bible & Book of Mormon
 On The Nature of Man[1]
How does the Bible describe the nature of man?  "All have sinned and fall short of the glory of God."  Romans 3:23; 5:12
What does the psalmist, David, tell us about the capability of children to sin?  "Surely I was sinful at birth, sinful from the time my mother conceived me."  Psalms 51:5
What does the Apostle Paul tell us to do about our sinful nature?  "…put off your old self which is being corrupted by its deceitful desires…and put on the new self created to be like God in true righteousness and holiness…"  Ephesians 4:22-24
How does the Book of Mormon describe man's natural condition?  "Who could have supposed that our God would have been so merciful as to have snatched us from our awful, sinful, and polluted state?" Alma 26:17
In what other language does the Book of Mormon make the same point?  "O wretched man that I am…My soul grieveth  because of mine iniquities.  I am encompassed about, because of the temptations and the sins which do so easily beset me." 2 Nephi 4:17-18
How else does the book of Mormon describe the nature of man?  "Because of the fall our natures have become evil constantly." Ether 3:2
What do Jesus and the Apostle Paul tell us to do daily with our sinful nature?  "He must deny himself and take up his cross

daily

and follow Me."  Luke 9:23.  Colossians 3:9-10 says, "Put off the old nature with its practices and…put on the new nature."
---
[1] Mormons say: "All human beings-male and female-are created in the image of God.  Each is a beloved spirit son or daughter of heavenly parents, and, as such, each has a divine nature…" From The Family:  A Proclamation To The World, published by The Church of Jesus Christ of Latter-Day Saints.  The Bible teaches the first point, but disavows the second, that man is a spirit with a divine nature.  The Book of Mormon also disagrees with this current Mormon teaching and says that man lives in "an awful, sinful, and polluted state" and has a nature that is "evil constantly."